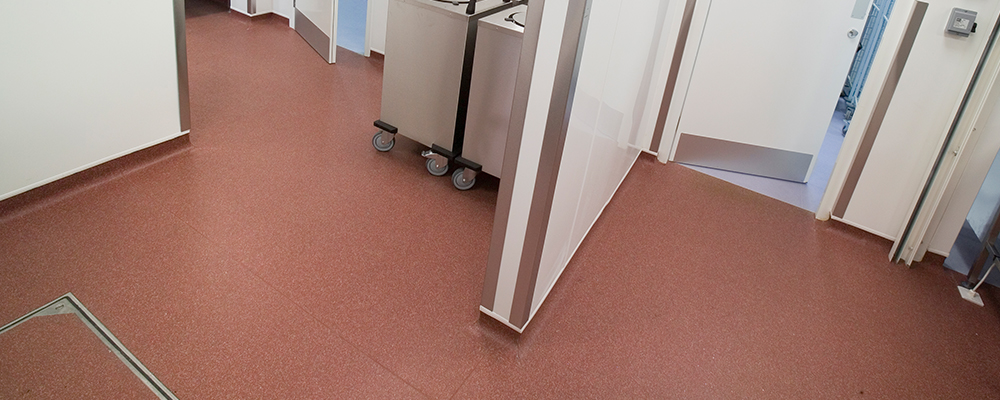 Floor and Wall Coverings
Vinyl floor coverings
PVC is the most common polymer used for sheet and tile flooring. Vinyl resilient flooring is widely used in Australian hospitals, schools, sporting clubs and commercial kitchens where slip resistance and high levels of safety and hygiene are required. It is hard wearing, warm underfoot, cost-effective and easy to keep clean as it has a pore-free surface.
Vinyl floors are low maintenance, need no polishing or treating and are hygienic and fire resistant. Sheets are joined together by heat welding which prevents water or moisture from seeping through gaps and therefore are ideal for wet floor areas such as in healthcare facilities.
Resilient vinyl flooring - both sheet and tile - has become a valued design tool for many interior designers and architects, particularly those designing for heavy-traffic locations such as retail stores, or for rooms where hygiene is especially important such as a hospital operating room.
Find out Why vinyl is the right choice for hospital flooring
Vinyl coated wall papers
Vinyl coated wallpapers and fabrics offer durable, long lasting, washable wall coverings.
The product is commonly made by applying a liquid coat of hot PVC over a paper base. Alternative types include those where a solid sheet of decorative vinyl is fixed to a paper backing, and those where fabric is laminated with a solid vinyl sheet.
All are easy to clean and resistant to heat and humidity making them a good choice for kitchens and bathrooms. They are also easy to strip from walls.
Use of vinyl wall coverings has had a resurgence for both residential and commercial interiors, driven by interior designers and architects seeking more original and exciting design options. The reasons for vinyl's growth are both aesthetic and practical - vinyl wallcoverings offer a wide range of finishes and colours with enhanced durability.